300W Grid Tie Inverter MPPT function,Pure Sine wave 110Vac output,18V 36cells input,Micro on grid tie inverter 10.8-28VDC MPPT
Item information:
DC input: 18V/36Cells Panels ,10.5V-28VDC
AC output: 110VAC
Power:300W
Plug:EU,AU,US,UK Plug.
Package including:

1. 1pcs 200W Micro inverter
2. 1pcs user manual
3. 1pcs AC Cord

Brief Introduction
Smart Grid Tie inverter is a compact unit,which directly converts direct current into alternating current for powering appliances and/or office equipments and connecting to utility grid.The AC output from Smart Micro inverter is synchronized and in-phase with the utility grid.It is a key device of power generation systems such as PV power generation system.
Smart Micro inverter specially optimized design to work with modularization of DC power supplies which includes the mainstream solar modules,18V(36cells),24V(60 cells) and 36V (72cells)Moncrystal and/or polycrystalline solar panels and batteries.Smart Micro inverters are stabliation,reliable and high conversion efficiency items.It is the best choice for PV power generation system.

Smart Micro inverter can be easily placed and attached to the rack underneath of PV module.No need sapces for independent installation and low voltage DC wre connects from the PV module to smart Micro inverter can eliminate the risk of high DC voltage.Distributed modularization design philosophy for smart micro inverter insures the productiveness of the whole system and will not affect by a single point of failure.Each Smart Micro inverter is individually connected to each PV module in the array.This unique configuation means that an individual Maximum Peak Power Point Tracker(MPPT) controls each PV modules in the array which may be affected by shading,soiling,orientation or mismatch,etc.
Smart Micro inverter insures top performance for maximizing energy production from the whole PV system and gets return on investment in less time.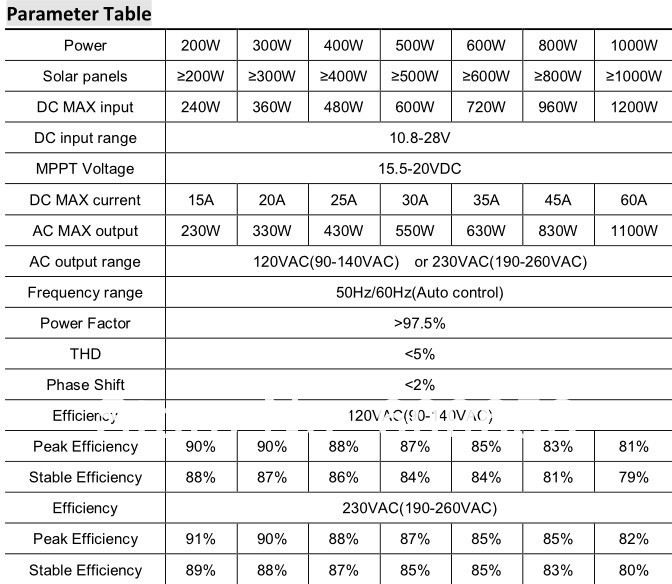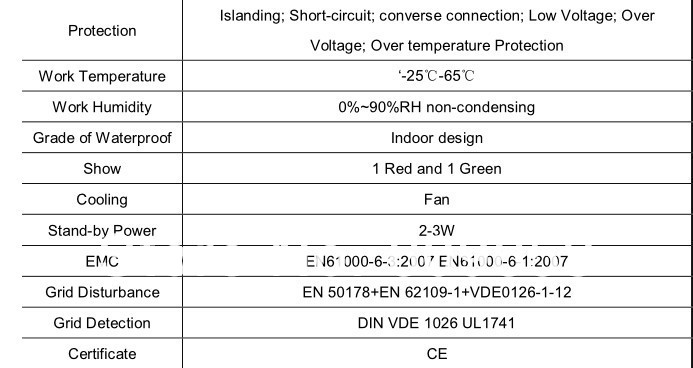 Features:
1.Unique circuit design,choice of import industrial electronic components,higher efficiency,more stable performance.
2.Creative MPPT technology,efficiency more than 99%,faster and more sensitive reaction,more reliable.
3.Parallel type design for DC input and modularization design for inverter,small volume,distributed installation easy for system configuration,flexible for combination,strong expansibility of system.
4.Adopting high-frequency isolation transformer type,high efficiency,and high security.
5.Perfect electrical protection function.
6.Aluminum alloy housing,not rust,heat-resisting and cold-resistant as well as anti-corrosion.
7.Getting electronic circuit design,apperance design and other core technology Patents.
1.Installation Instrallation:
1. Red terminal: Connect DC positive, black terminal: Connect DC negative. Shown in Figure 1.
2. AC socket: Connection to the mains. The AC cord to the inverter 3 foot outlet, then the AC cord to home
3PIN AC outlet. Are shown in Figure 2.
3. Switch: properly connected; turn on the switch, the inverter to work.






2. Application of Street lights:
Use this product, do not need to add a fan controller, solar panel controller, battery.
Connection Method 1
This connection method, wind energy, solar energy can supply to the grid at the same time, the highest efficiency.




3.Stackable connection (The purpose of small power inverter become high-power inverter)
In order to achieve higher power use requirements, the use of this product can be stacked, such as: 4 grid inverter 300W of stack used is equal to 1200W, and the number of open stacks(No Quantitative Restrictions).
Used as shown in Figure 2
LED indicator
1. Red LED indicator lights up under any conditions as listed below:
a. Low-voltage protection(DC input voltage lower than Min. input voltage of inverters )
b. Over-voltage protection(DC input voltage higher than Max. input voltage of inverters)
c. Over-temperature protection (inverters will be shut down for power output when the temperature of body of inverters higher than 65-75.)

And inverter will be automatically restart up when the temperature of body of the inverter down to 40-50.

d. Power grid fault protection (when 110VAC or 220VAC grid power outage and/or tripped.
e. Islanding protection: inverter will be automatically shut down for power output when disconnect with power grid.
Warranty
Warranty Conditions
Warranty Period: 15-year limited warranty period.
Warranty Time Start: From the date of bill of lading
Warranty Evidence: The B/L, Product(s) series number(s), Product(s) model, and a completed warranty card.
If your device has a defect or malfunction during the warranty period, please contact your retailer or installer.
Warranty claims are excluded for:
• Alterations or repairs to the unit without prior authorization
• Improper use or operation of device
• Improper and non-standard installation
• operating the equipment with defective safety devices
• Impact of foreign objects and force majeure (lightning, surge, storm, fire)
• Inadequate or nonexistent ventilation of the device
• disregarding of safety regulations
• shipping damage
• The Product has been improperly stored or was damaged while in possession of the Dealer or end user;
WARNING! Only qualified electrical professionals can do the trouble shooting of the Smart Microinverter system. WARNING! Please turn off the Smart Microinverter first and then disconnect
the AC grid before disconnecting the Smart Microinverter from the PV module when remove the inverter from the rack.
WARNING: Do not attempt to repair the Smart Microinverter. This may bring electrical hazard to the person and it will also void the Microinverter warranty. If troubleshooting methods fail, please
contact customer support to return the Microinverter and initiate for replacement process.
Specifications
Input Voltage
10.5V-28V
Output Voltage
110V
Output Power
300W
Micro 300W Grid Tie Inverter MPPT
Brand: Inverter Expert
Product Code: 300W Grid Tie Inverter MPPT 110V AC,18V 36cells DC,10.8-28VDC
Availability: In Stock
Related Products
Tags: 300W Grid Tie Inverter MPPT function, Pure Sine wave 110Vac output, 18V 36cells input, Micro on grid tie inverter 10.8-28VDC MPPT