Item information:
DC input: 30V 60Cells
AC output: 220V
Power: 230W
Smart grid tie microinverter with its own independent MPPT function, microinverter can be track down the best operating point of PV module at any time, and the MPPT efficiency more than or equal to 99%.
1. With SPLL(soft PLL) automatic power point locking technology, microinverter can be track down the max. power point of PV module and lock at any time.
2. MCU central processing design with independent chip operation for creating SPWM control signal, and run for soft start function.
3. Synchronous signal detection circuit design and high-frequency online grid-connected modulation for AC side, high-frequency synthesis and output sine-wave current which the frequency and phase are same as power grid.
4. With high-performance MOSFET, fast driving and higher performance.
5. Low voltage DC and isolation type booster circuit design for DC side leading to more safe and reliable for use and installation.
6. Anti-islanding setting auto detection, fast reaction, and more complies with grid-connected safe requirement of every countries.
7. With stacked in parallel using technology, microinverters will operate as a large power inverter at any time, more flexible for expansion of PV power system.
8. Fully Protection Functions: Input DC over/under voltage protection, anti-reverse connect protection, output AC over/under frequency protection and over/under voltage protection, short-circuit protection, overheating protection; IP65 waterproof function.
9. Communication operate through RF with data collector, and use with RS323/485 serial port communicate with computer for data collecting and remote monitoring.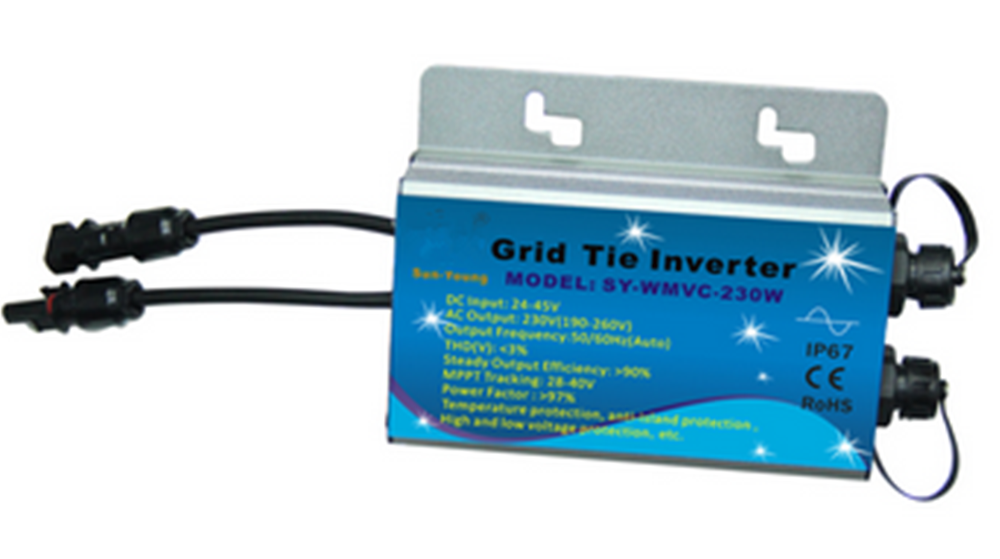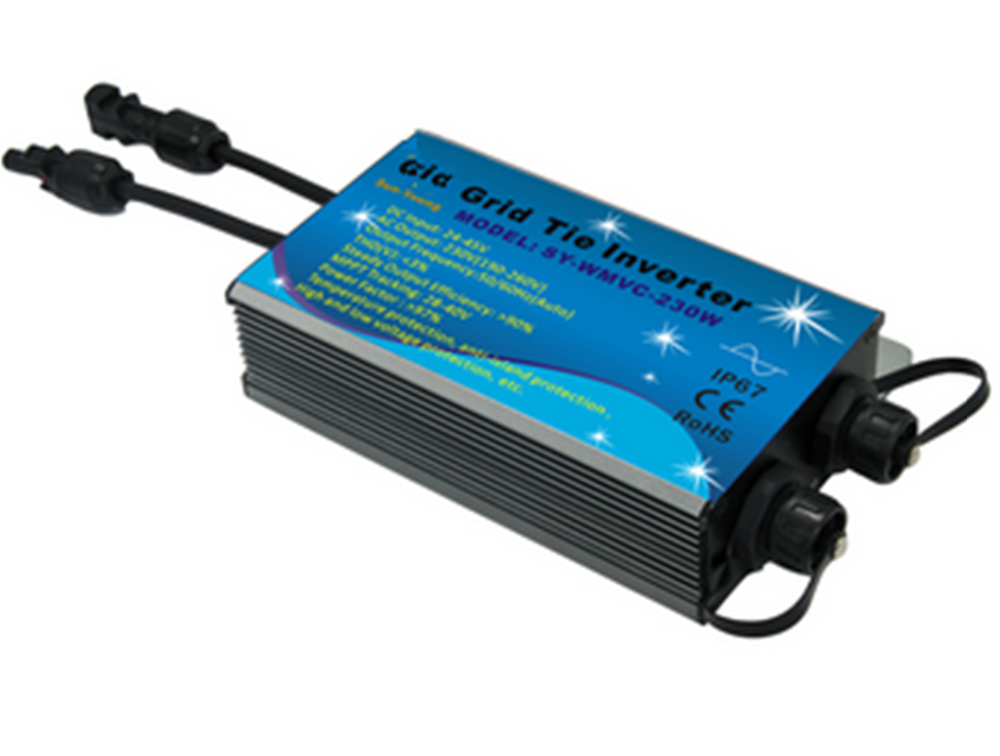 Remark:
DC power sources refer to devices which output voltage are match microinverter input voltage setting range as 22-46VDC, included solar panels, batteries, wind generators which DC current operate through AC to DC controller.
AC power grid refer to single phase utility grid. Such as 110V(90-140V)and 220V(190-260V)single phase electrical utility service.
Parameter Table
DC/AC Steady Conversion Efficiency

>90%

Recommend use solar panels

36V/230Wp

AC MAX output power

230W

DC maximum voltage

VpvDC46VDC

DC input voltage range

Vpv 26V~46VDC

DC Max. Input Current

15A

MAX output power factor

98%

DC input Reverse voltage protection

FUSE

AC Output Power

230W

AC Max. Output Power

230W

MPPT Tracking Voltage Range

24-46VDC

MPPT Efficiency

>99%

AC Standard Voltage

110VAC)90V-140 or(220VAC)190~260VAC

AC Frequency Range

45Hz~53Hz/55Hz~63Hz
(Automatic Detection and Adjustment)

THD at Rated power

THD <3%

Phase

<1%

Island Protection

Available

Output Short-circuit Protection

Available

Input Reverse Protection

Available

Standby Power

<2W

Night Powe

<1W

Time for Starting upto Full Power

<3(Mins)

Operation Temperature

-25 C~65C

Operation Temperature Protection

>70

Waterproof Level

IP65

EMC

EN61000-6-3:2007 EN61000-6-1:2007

Grid disturbance

EN 50178+EN 62109-1+VDE0126-1-12

Grid detection

DIN VDE 1026 UL1741
1.Installation Instrallation:
1. Red terminal: Connect DC positive, black terminal: Connect DC negative. Shown in Figure 1.
2. AC socket: Connection to the mains. The AC cord to the inverter 3 foot outlet, then the AC cord to home
3PIN AC outlet. Are shown in Figure 2.
3. Switch: properly connected; turn on the switch, the inverter to work.



2. Application of Street lights:
Use this product, do not need to add a fan controller, solar panel controller, battery.
Connection Method 1
This connection method, wind energy, solar energy can supply to the grid at the same time, the highest efficiency.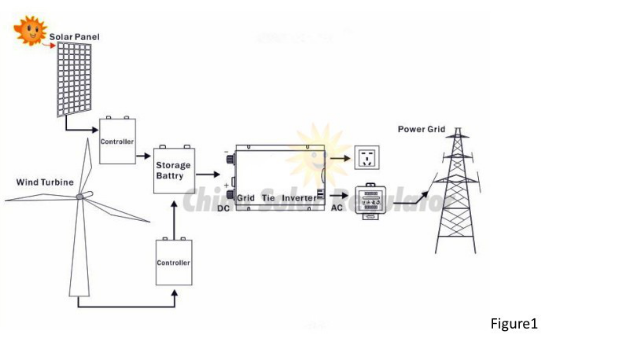 3.Stackable connection (The purpose of small power inverter become high-power inverter)
In order to achieve higher power use requirements, the use of this product can be stacked, such as: 4 grid inverter 300W of stack used is equal to 1200W, and the number of open stacks(No Quantitative Restrictions).
Used as shown in Figure 2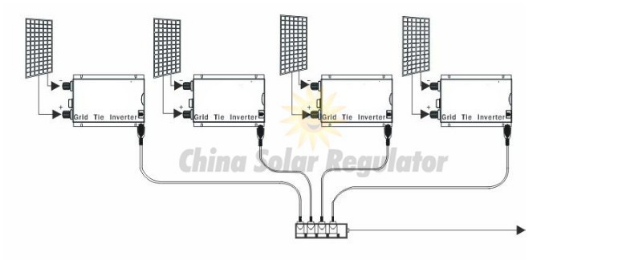 LED indicator
1. Red LED indicator lights up under any conditions as listed below:
a. Low-voltage protection(DC input voltage lower than Min. input voltage of inverters )
b. Over-voltage protection(DC input voltage higher than Max. input voltage of inverters)
c. Over-temperature protection (inverters will be shut down for power output when the temperature of body of inverters higher than 65-75.)

And inverter will be automatically restart up when the temperature of body of the inverter down to 40-50.
d. Power grid fault protection (when 110VAC or 220VAC grid power outage and/or tripped.
e. Islanding protection: inverter will be automatically shut down for power output when disconnect with power grid.
Specifications
Input Voltage
36V
Output Voltage
220V
Output Power
230W
Output Frequency
45Hz~53Hz/55Hz~63Hz
MPPT Tracking Function waterproof 230W 220V Solar panel on Grid System Micro Inverter 36v mc4 solar pv connector
Brand: Inverter Expert
Product Code: waterproof 230W 220V
Availability: In Stock
Related Products
Tags: MPPT Tracking Function waterproof 230W 220V Solar panel on Grid System Micro Inverter 36v mc4 solar pv connector